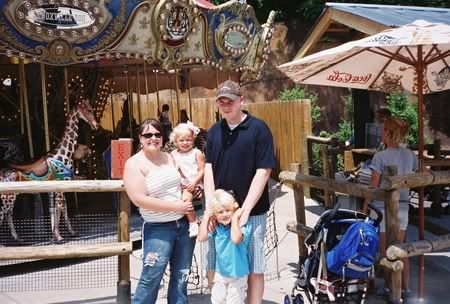 So J and I were the picture perfect little family at the Zoo on Sunday. How cute we were with our two curly blonde, tanned, and gorgeous kids. I was flattered that the world thought they were ours (the stick straight brunette with not much color and the extremely white bald guy).

Sunday was my company picnic to the Zoo and we decided it would be more fun if we took along our "boyfriend" and "girlfriend". We adore the R kids and enjoy doing things with them. Girlfriend has some extreme love for J and Boyfriend still says that we are getting married even if I'm married to J--so there!

We had such a great time with them (on our "double date" as Boyfriend informed me!). It's so fun to see things from a kids perspective and watch them get so excited. There was a bear right up next to the glass in the water and the kids were thrilled be right at eye level with it. Later one of the large gorillas kept sticking his tongue out and picking his nose which was a big delight to the little ones. I love watching them run from each exhibit or look intently trying to find where the animal is inside.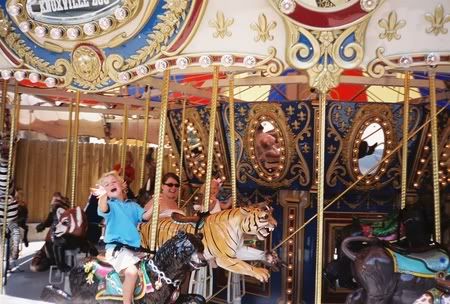 After spending all morning looking at the animals we went to our picnic lunch. Let me tell you--most people know that I'm a newlywed. They didn't know I had two kids. HA! I think I straightened everyone out though. After lunch we played in Kids Cove. We took a carousel ride and then visited the petting zoo (J opted out). The kids played in the sandbox and then on the big playground before spending the hottest part of the afternoon in the water area, which by the way is entirely too small for the millions of kids that want to enjoy it. After that we finished the day off with the much anticipated camel ride. Let me tell you--J and I are way cool and one upped the parents on the camel ride. Boyfriend and Girlfriend were so excited and couldn't get on the camel fast enough. They were darling as they waved at J to take pictures of them. They were so excited when they got off and wanted to watch the other kids ride and pet the small ones. I love, love, love those darling children.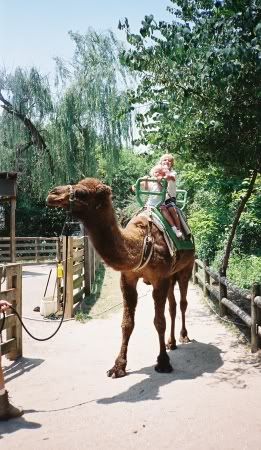 Now I know what you are all thinking....I'm going to be putting a bun in the oven. Oh contrare my friends! I love kids, and I love the R kids, but I love to take them home and go back to my anal retentive, OCD, simple life with just me and my hubby. I know that the bracelet girls have me pegged as the first to reproduce, and that may be true, but it will be quite a few years before that happens. For now, I just get my enjoyment out of Boyfriend and Girlfriend and the enjoyment of returning them to their parents. I'm young and selfish. I'm simply not ready to share my time and my time with J with children. I'm not ready to put money in college funds or pay a nanny. I just want to be the cute, young, newlywed, career girl that I am, and that girl is child free for the next several years. Besides I need to get my MS to be a stay at home mom...right?