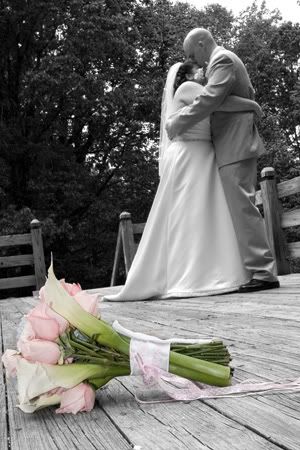 It is finally time for me to catch up on my blogging and post wedding chatter. First I'd like to ask a very important question: Did everyone know that LUKE DUKE was married and had his reception at the same location in 1988? It's true!

Now, moving on, I want to say that my wedding would have absolutely not happened without the one and only SEC. She took care of so much of the planning/coordinating/directing and made the cutest programs ever (more info below). My photographer was phenomenal. In addition, I loved my extra photographers (Sjb, AF, Irish Guy) who also took some great pictures for me. She did such great work and my pictures turned out amazing. "DJ D-Lo" was fabulous at pulling all of the music together (ceremony, special requests, reception dancing, etc.). My aunts and cousins made a wonderful reception dinner (details below) and did pretty good packing the show on the road. They cater events in West Virginia and now Tennessee! And my flowers---oh the flowers! I loved my flowers so much! I could not think my florists enough for the wonderful bouquets, arrangements, and hard work they did (they were family friends, not an actual flower shop). Also, a friend packed up shop and came to the cabin to do everyone's hair, and JC (Miss Elizabeth Arden) did our make-up. We were all pretty, pretty, princesses! Read on for exciting stuff.

First, the rehearsal and rehearsal dinner were lovely. Most everyone made it to the Friday evening festivities. Those who didn't really missed out! It was so exciting to see everyone since nearly my entire wedding party is out of town. SEC was on top of things with a 2 page typed itinerary of Friday and Saturday with everything scheduled down to the minute. Amazing! J's parents had the dinner catered and it was delicious. Everyone loved it. The kids especially loved it, with every bite they kept saying it was the best food they'd ever had! It was too funny. They are precious! The dinner was barbecue picnic style and barbecued pork, marinated chicken, corn on the cob, broasted potatoes, potato salad and cole slaw (I think), sweet tea! Pecan pie and cheesecake were for dessert. I still owe my loving husband a bite of my pecan pie, oops!

On my way to dinner I met the Deputy, my security. Yeah, you know I had to keep the paparazzi out. After all, Luke Duke got married there in 1988. I absolutely LOVE Deputy W. She went far above and beyond my expectations and made the day really work out for me.

After the festivities on Friday night, my maids and I went to our cabin (and wow the "cabins" there are nice! We absolutely loved them. We're all going back for a weekend away this fall) to rest. It was nearly 1 o'clock am by the time I went to bed. I'd already decided a week before the wedding that I'd be getting no sleep until well afterwards. I was right. I was afraid I'd be so anxious that I couldn't sleep. I was wrong. I passed out quickly and slept so well that night. I woke up about 8 o'clock am on Saturday morning ready to go! I sprung up in bed and sang to everyone! I'm sure they loved that.

Being the sweet little bride that I am, I had arranged to have brunch for my attendants and friends (my fabulous and lovely honorary bridesmaids!) that would be joining me in getting ready. We had bagels, donuts, fruit, juice, soda, coffee, and of course, mimosas! However, my lovely aforementioned aunts and cousins made homemade biscuits, sausage, bacon, gravy, eggs, etc. Needless to say my entire cabin had breakfast there. Followed by J's entire cabin having breakfast there after us with second helpings, followed by cute little CC going back for seconds! J's parents really missed out by going to Cracker Barrel. Cracker Barrel has nothing on my Auntie B!

So the morning resumed with everyone getting their hair and makeup all pretty. It was fun for all of my friends to get to meet and know each other. I loved that I had such a large space and my close friends were able to come hang out and get ready there too. Our wedding was small so I couldn't ask everyone I wanted to be a bridesmaid. Luckily, there were other jobs and my honorary bridesmaids since I love all of those girls so much. There was a lot going on that morning. I hope BJ (my eight year old cousin and jr. bridesmaid) didn't pick up any new words to take to my Uncle. I also hope she didn't learn too much from the Glamour and Cosmo she was reading, hmm...

It was so fun putting on the finishing touches when my photographer arrived. I loved having all of my friends there to help me with all of the buttons and latches and ribbons and snaps and you-name-it on my dress. Oh, and nothing like your girlfriends checking out your petals and putting on your garter! AF pulled up in my chariot to take me to the Tea Room where J and I would see each other for the first time.

I saw J walking in the Tea Room from AF's 4-runner. He couldn't see me through the tinted windows. He looked so cutie patooty in his khaki suit. I love seeing him all dressed up. Instantly I get emotional. Which is different from, well, nothing since I often get emotional and it's often instantly. He was there waiting for me as BJ carried my train down the tulle-lined, stone path. It was so sweet to get to see him like that. It was a very nice private moment with just he and I and the photographer in the background. Oh, and then about 20 other people including my aunts, cousins, and bridesmaids as they all fought to push their faces in the tiny window from the kitchen to the dining area. Oh, except for Ta and BJ who found front row access just outside the window. It was indeed an intimate and private moment.

After the private moment everything just went so quickly. We took pictures. We did a variety of posed and candid shots (which all turned out splendid!). After most of the pictures the kids showed up looking so pinch-their-cheeks precious that I could hardly stand it. The were darling. We took more pictures with all of the kids (again, they turned out splendid!) and then it was nearly time for the ceremony. But first, more details.

My flowers were absolutely amazing! My bouquet had beautiful blue hydrangea in the middle surrounded by calla lilies and pink roses with tiny pink rosebuds popping out of the hydrangea. It was tied with a tone on tone pink polka dot ribbon that streamed down. The bridesmaids had bouquets of stargazer lily surrounded by white roses, gerber daisies, and shasta daisies. The boutonnieres were all pink or white roses and J's had a little blue hydrangea behind it. The corsages were either white roses, or pink gerber daisies. The centerpieces on the tables consisted of mason jars (too cute in the Tea Room, much more charming than the regular vases, it worked with the whole set-up) with blue ribbons tied around them. They were filled with stargazer lilies, gerber and Shasta daisies, and roses. It was all a mix of pinks and white. (They were sent home with my friend and honorary bridesmaids.) It was darling! There were also hanging ferns in the windowed openings between the tiers.

Guests were greeted by my wonderful friends to sign the book, frame, and get a program which were made by SEC. It was twelve 8x3 pages (because we wrote something about everyone) that were tied together with a pink ribbon and separated out to make a fan. Isn't that clever? Since it was an outdoor wedding that was a special and unique touch to keep our guests comfortable, as well as be pretty! SEC did an excellent job and I loved the idea!

I went back to the cabin with BJ where we loaded in our horse drawn wagon and waited for the ceremony. We could hear all of the singing and pre-wedding music. I was so excited, and again emotional. I kept thinking of funny things that would make me just happy and less emotional, and it finally worked. SEC's dramatic moment of the music ending, having a brief pause, and then hearing the horse hooves before you could see anything worked out perfectly! She said it was very dramatic. I loved seeing everyone' excited eyes and jaws dropping as we arrived. It was a very princess-y and fairy tale like entrance (as I was told by many people).

The ceremony was beautiful. The decorations were gorgeous. (Thank you SEC!) There were shepherd's hooks with white rose pomanders hanging from them, ferns with white hydrangea in them, cute bows on the aisles, pink flowering baskets hanging from the stands the candles were on (which my crafty husband made!), and then it was just the natural beauty of the stone path and stage of the amphitheatre being surrounded by the trees and plants in the park. Wow...It was perfect! The ferns were in memory of our grandparent's and my dad. They were given as gifts to some people special to us, and the hydrangea will go on my dad and grandparent's grave.

Our minister, the Rev. was great. This was his first wedding. That's right, his first wedding. The Rev. and Mrs. love me (their 4th daughter) and he was ordained just so he could do my ceremony. It made the day very special for all of us. I couldn't have had a wedding without the Rev family. I'd have had no singers or officiant.

The ceremony went really well and the kids were an added bonus. Girlfriend made her grand entrance by running up to join us (with "ba" (pacifier) in mouth) as it was nearly over. She loves her some J. I think she was trying to object.

And yes, that is my right breast that is nearly popping out as I kiss J! Then we walked out to "How Sweet It Is To Be Loved By You." It was darling! I knew I wanted a triumphant exit and that song was perfect! CC said it gave her chills!

After the ceremony J and I left in the horse drawn wagon for a little ride around the park. We came back to a large receiving line of guests waiting for us. It was time to announce Mr. and Mrs. JNM so we could get the party started! Let's eat!

Let's talk about food. What did we not have? The menu consisted of roast beef, baked ham, fried chicken, mashed potato bar, sweet potato bar, green beans, corn, rolls, potato salad, macaroni salad, pasta salad, garden salad, cole slaw, a large veggie tray with three different dips, a large fruit tray with three different dips, 2 large chocolate covered strawberry trees, turtle brownies (the grooms cake), and of course, the wedding cake! Yum, the wedding cake was the best cake I've ever eaten. It was alternating strawberry and yellow mixed layers with buttercream icing. It had a little ruffle around the top and clusters of pale pink dots on the tiers. A silver scrolly "M"topped it off. Wow--it was amazing! My aunts and cousins totally outdid themselves. Bringing their catering business to me and doing my reception was their gift to me. Is that the most amazing gift ever or what?

After we had all stuffed our yums, it was dancing time! We got the party started with Prince and Jagged Edge. (You HAVE to play "Let's Get Married" at a wedding reception!) The dancing was good times with classic line dance songs for maximum crowd involvement and fun songs like the Hokey Pokey, The Chicken Dance, Celebration, YMCA, etc. I felt like the reception ended early, but then I realized how late it was, and it was definitely time to go!

My wedding day was the most wonderful, perfect, princessy, beautiful day ever. The weather was awesome for everything to go well. The forecast went back and forth so it was slightly stressful. However, I think God knew I couldn't handle anymore stress so I just told Him that it had to work out, and trusted that it would. It was perfect!

I think one of the very special things you get to do as a bride is toss your bouquet. I was very excited for this moment. I hoped that I wouldn't have to do a repeat like some friends did. (Mrs. S hitting the ceiling, then the wall, LN not reaching the crowd and the flowers falling---oh but she made a comeback with a handful out of a vase---and I caught it! How appropriate that was!). T-Ho was bound and determined to catch the bouquet and I think once she instilled the fear of God, the other ladies didn't even attempt. Nonetheless--she was the proud owner of the bouquet in the end! I love the bouquet toss! It was good times! The music choice for the occasion was great too: Another One Bites the Dust!

I think J was excited about getting the garter and tossing it! (Another good music choice: Hit Me With Your Best Shot). What does it mean for a guy to catch the garter? Next to be married? Or the unlucky one who didn't move quick enough?

So now the planning and execution are all over. It's so sad. I love weddings, I love wedding planning, I love reading the magazines, oh how I love reading the magazines! I loved our wedding day and I love the Tea Room. In fact, I've decided we are having an anniversary party there in like 5 years! How fun would that be? There would be no stress of pulling off the perfect day again, just good times and reminiscing--good music, good food, good wine, it sounds great to me. I think I'll start planning now. Perhaps I'll need to continue to buy bridal magazines to do so!